Dallas, TX (November 13, 2023) – The Dallas Education Foundation (DEF), the direct and designated, non-profit, philanthropic partner of Dallas ISD, hosted its third annual HeART of Teaching gala on Nov. 1 at the historic Longhorn Ballroom. This year's gala featured an innovative way of uniting the Dallas community and Dallas ISD by partnering Dallas ISD dance teachers and notable Dallasites with a fun and friendly dance competition — Dancing with the Stars of Dallas.
Not only were Dallas ISD dance educators highlighted, but the energy of the evening was amplified with musical performances by teachers throughout the art disciplines including a booming large jazz ensemble, high-energy cover band, and toe-tapping pop ensemble all by Dallas ISD performing arts educators! We also can't forget the teachers behind the scenes – our outstanding visual artists who contributed their original art and talents to the silent auction and our world-class Dallas ISD production crew who ran lights, played music, and managed the stage.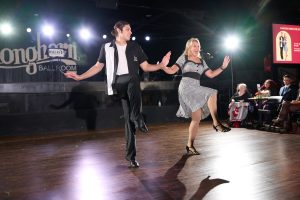 DEF expresses a heartfelt note of gratitude to all the Dallas community members involved in making the evening a huge success, including Honorary Chair Ambassador Ron Kirk, Masters of Ceremony Lynn McBee and Jon Dahlander, and esteemed judges from the Arts community Charles Santos, Ahava Silkey-Jones, and Lily Cabatu Weiss.
DEF is grateful to our city's Stars who rehearsed and rehearsed to make sure they lit up the dance floor: Texas State Representative Rafael Anchia, Dallas ISD Superintendent Stephanie Elizalde, Ed.D., the honorable Jennifer Staubach Gates, WFAA Anchor and Dallas ISD alumna Cynthia Izaguirre, Dallas County Judge Clay Jenkins, and Victor Vital, Managing Partner at Barnes & Thornburg and DEF Board president.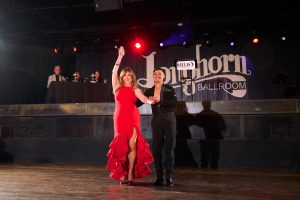 Jon Dahlander, Chief of Partnerships and Intergovernmental Relations, guided guests through the evening and highlighted the dancing duos through thoughtful and inspiring interviews. And our very own Dallas ISD Star and Superintendent of Schools Stephanie Elizalde lit up the dance floor with her partner David Arevalo with their fiery Mambo and Flamenco performances. Congratulations to Fernando Rocha of Sunset High School and the Honorable Jennifer Staubach Gates for winning the coveted Mirror Ball trophy!
About Dallas Education Foundation
The Dallas Education Foundation (DEF) is a registered 501(c)(3) and serves as the direct and designated philanthropic partner of Dallas ISD. With a mission to inspire community investment to accelerate student success, our vision is a galvanized community whose resources support the transformative work that makes Dallas ISD the preferred choice for families across North Texas.
Aligning with the district's strategic initiatives, DEF has granted more than $5 million over the last three years for the benefit of our Dallas ISD students, teachers, and schools, focusing on economic mobility by supporting early learning, advancing literacy, driving post-secondary success, and catalyzing our educators. To learn more, go to https://dallasedfound.org and follow us @dallasedfound on Facebook, X, Instagram, LinkedIn, and YouTube.
About Dallas ISD
The Dallas Independent School District is continually preparing its more than 141,000 students for college or a career. The district offers a competitive mix of innovative programs, choice programs and instructional initiatives that support the increased academic achievement and the social and emotional development of its students. To learn more, visit www.dallasisd.org.